I went for a stroll in our wood yesterday looking for acorns high in the branches of the old oaks but there seems to be a poor crop this year. I can't think why. No doubt someone would suggest global warming as the cause but trees often take a rest after producing heavy crops the previous year. This would seem to be a more obvious explanation as last year's crop was enormous. I returned home with a handful of oak twigs and leaves and the idea that knitting acorns shouldn't be too difficult .... it wasn't.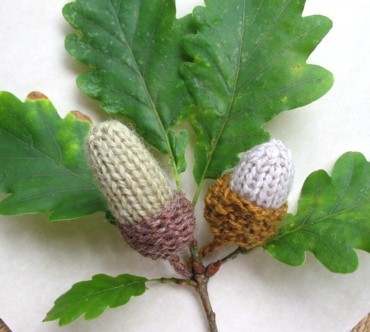 I had great fun experimenting and produced a variety of different sizes.
I used scraps of double knitting yarn and 3 mm needles. The number of stitches cast on and rows knitted depends on the size of acorn required (my finished acorns measured approx 3 cm x 2 cm). I found the most realistic ones were knitted in 2 pieces (see below).
For the top cast on 12 stitches. Knit 10 rows stocking stitch. Row 11, knit 2 stitches together right across the row (6 stitches remaining). Row 12, purl 2 stitches together across row (3 stitches remaining). Break off yarn (allowing 15 cm) and using sewing needle thread yarn through the remaining stitches and gather. Stitch side seam.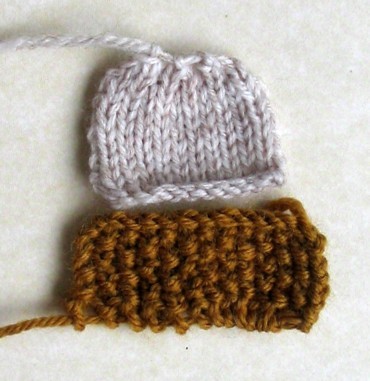 The acorn cup is done in moss stitch (k1 p1) but reverse stocking also looks effective. Cast on 13 stitches and knit 8 rows. Break off yarn (allowing 15 cm) and using a sewing needle thread yarn through the 13 stitches and gather. Make a little twisted cord using 2 strands of yarn for the stem of the cup. Insert knotted end of stem into the gathered edge before closing and stitch side seam. Now stuff the acorn (top half only) with a small amount of fibre filling. Don't fill it too full or it will be too fat! Close the end and insert it into the acorn cup. Stitch two halves together securely. Job done!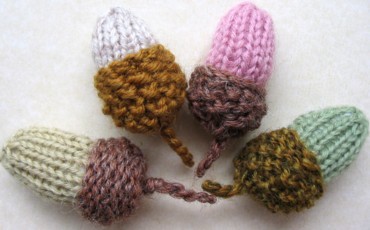 Note reverse stocking stitch is used for the acorn cup on the left. The remaining three have cups knitted in moss stitch.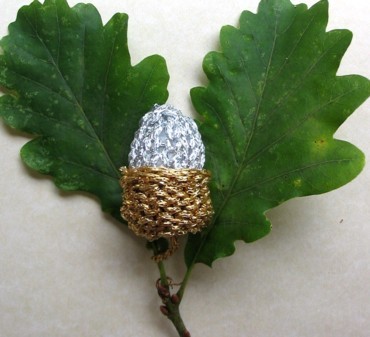 Above - a magical gold and silver acorn. On reflection I think using finer knitting needles and adding more stitches and rows would have produced a better acorn. They'd be great as Xmas decorations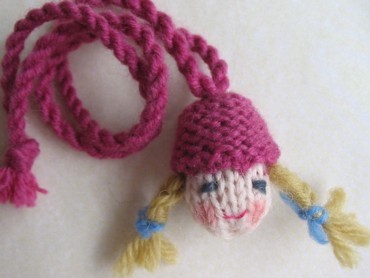 Finally I wanted to make an acorn girl with a smiling face! I used the same method as before but instead of adding a stem I made a long twisted cord to create a necklace. The features were stitched onto the face after stuffing. A red crayon produced glowing cheeks and little yellow plaits stitched below the hat gave the finishing touch.
They say mighty oaks from little acorns grow so perhaps its lucky that I don't have enough yarn to knit enough acorns to fill a tree!