Can there be a nicer way to spend Sunday afternoons than curled up with a good book? This is what I've been doing today.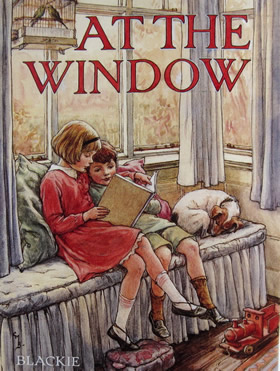 Don't you just love this picture? It was painted by Cicely Mary Barker.
Most people are very familiar with the paintings of Cicely Mary Barker but maybe not the name and so, as she is one of my favourite artists, I'll tell you a little bit about the lady and her work.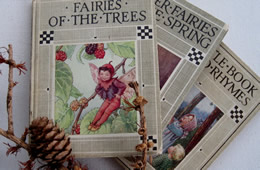 Cicely's Flower Fairies are world famous and can be found everywhere on anything from wallpaper to duvet covers as well as in the traditional little books. The first book, 'Flower Fairies of the Spring', was published in 1923. Above are examples of the early book covers whilst below are the modern and more colourful paperback versions which children of today will find more appealing. (I prefer the older ones!)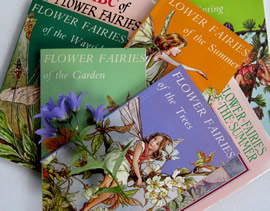 Cicely's family lived in Croydon south London and her sister ran a kindergarten there. It was here that Cicely sketched many of the pupils that were to inspire her Flower Fairy images and much of her life's other work.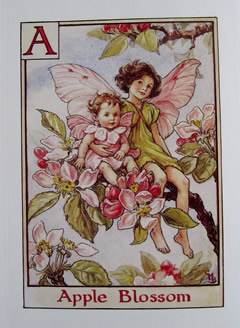 There are countless different Flower Fairies but the Apple Blossom Fairy is one of the best loved and the image has been used time and again for over 80 years.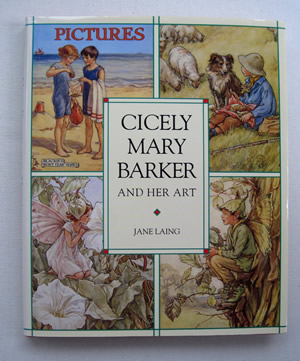 If you'd like to find out more about Cicely Mary Barker, her life and work I know you'll enjoy this book by Jane Laing (first published 1995). It is full of wonderful coloured illustrations and information about the sweet lady that painted them.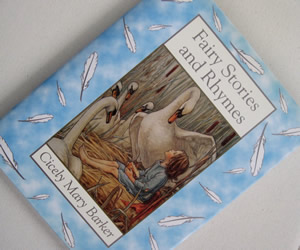 Cicely had a great imagination and a talent for creating fantasy worlds and wrote a number of short stories. The book above contains four of them.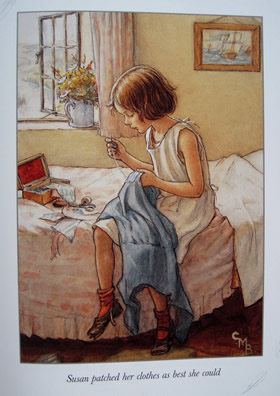 The stories are typical of their time and perhaps a little too sentimental for today's children but I love them. Just look at poor little Susan sitting on the bed patching her shabby old clothes.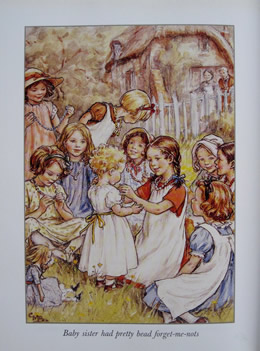 Most pictures in the stories are happy ones like this which shows little girls making necklaces from forget-me-not flowers.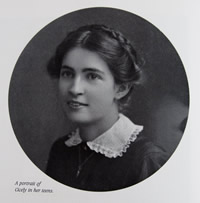 Cicely Mary Barker was born in 1895 and as a child suffered much ill-health. She was educated at home and during those years taught herself to draw.
Throughout her life she had a strong Christian faith and her painting of the young Christ (below) is an image English Sunday School pupils (past and present) are familiar with.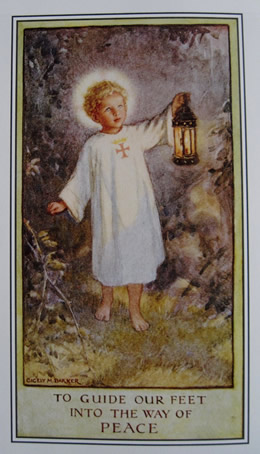 During her life Cicely painted countless other religious pictures.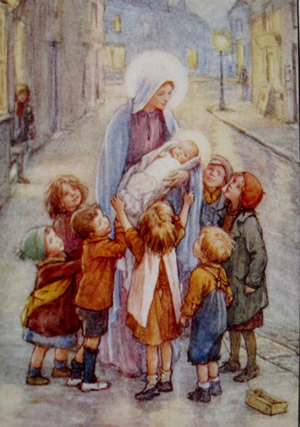 This one showing street children looking in wonder at the Virgin Mary and baby Jesus was painted as a Christmas card in 1934.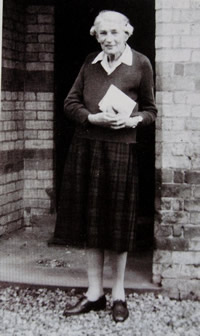 Cicely Mary Barker died in 1973 after a quiet life spent as a dedicated artist. She was much loved by all who knew her and her timeless images remain as popular today as ever.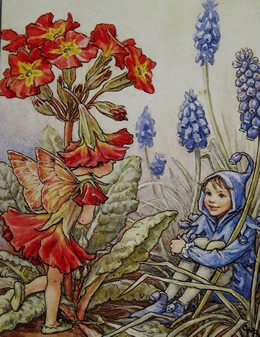 Wouldn't it be wonderful to have the talent to create images like this.
If you'd like to have a go at crafting flower fairies rather than painting them you might want to pop over to Knitting Tree where you'll find some cute little flower fairies made from artificial flowers and there's a useful tutorial showing how to make them. I reckon all little girls would love to try their hand at making a few of these fairy folk
Until next time
Eli