Just look at this little cutie with enormous tears rolling down her cheeks. Doesn't she tug at the heartstrings? I came across her many years ago when reading stories in an old Mabel Lucie Attwell book.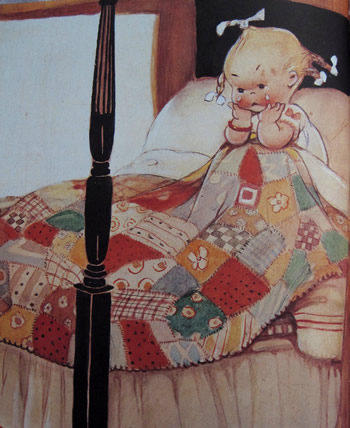 The little poppet had gone to stay with her grandma but felt so lonely and homesick in grandma's big bed that she sat and wept.
But of course kindly grandma came to the rescue and sat on the bed to reassure her little granddaughter that she wasn't alone because she had the patchwork for company. Every single patch told a story. And with that grandma proceeded to identify the various fabrics and recall the memories attached to each. The little girl was soon so wrapped up in the colourful stories that her sadness quickly melted away.
This little tale inspired me to make my own patchwork of memories about 15 years ago. I remember sitting with my mum in wintertime sorting through loads of tiny fabric pieces that we had both squirreled away over the years. Every pattern had a tale to tell. I spend many hours hand stitching squares and hexagons into a cover for a single bed.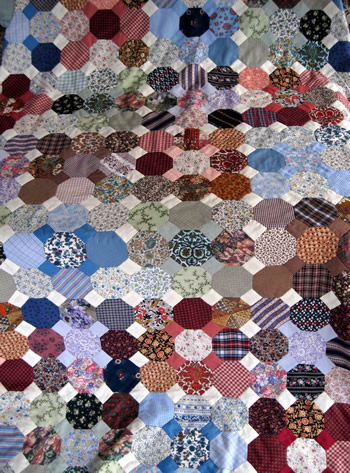 There are my mum's earliest dresses and those she made for my sisters and me; plus the dresses, blouses and shirts I made for my myself and my own children. There were so many colours and patterns to juggle with that in the end I simply set them out in squares of nine blending shades.
Although my mum is sadly no longer with us I know I will always feel close to her when I look at the patchwork we put together all those years ago. To everyone else it will never be more than a colourful bedspread but for me it will always remain a patchwork of happy lifetime memories.
Update - ABOUT MY DOLLY
As my blogging chums Debbie and Helen have commented on the sweet dolly I used for this post I decided to add a little something about her. I happened to spot her on Ebay about 8 years ago and it was love at first sight. She is a 1930s American doll from the Madame Alexander doll company and wears her original clothing (the name Madame Alexander can be found on the back of her head). She has composition head, arms and legs but a cloth body so is easy to pose and loves to be cuddled. My American friends will of course be familiar with Madame Alexander dolls, but for those who aren't, here is a link to a short history of the company.
Until next time,
Eli