Since last I posted on Flutterby Patch our garden has sprung into life and everywhere is a blaze of colour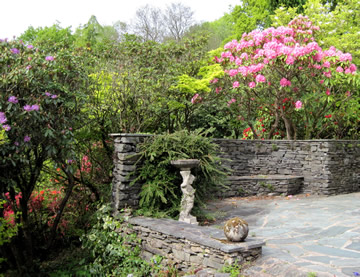 Rhododendrons and azaleas are in full bloom and there has been (and still is) much work to do.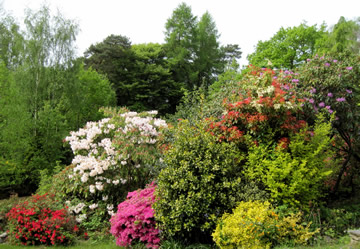 These old stone steps wind their way down from the lawn to the very bottom of the garden and are always in need of a sweep. This can be a long job as there are 35 steps in total and plenty of moss to remove and weeds to pull out after sweeping.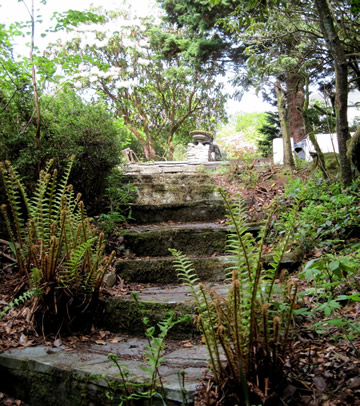 Meanwhile my partner in the garden (husband) has been laying a new path. If you think this looks like a tarmac path you'd be right! Hubby had a word with the workmen laying a new road surface near here and asked if he could have the old tarmac when they'd removed it.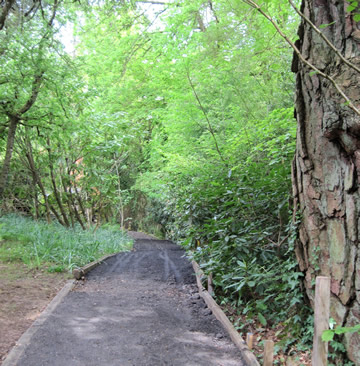 So last week several waggons of the stuff were dumped at our gate and the black stuff has been getting lifted and shifted ever since. It might sound nasty but in fact it makes an excellent (free) surface and after being compressed will last for years.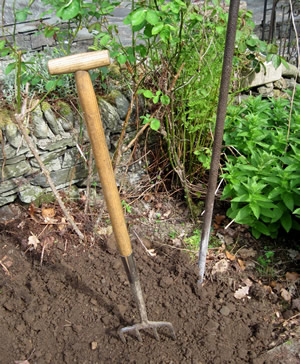 Another urgent job has involved digging over the garden beds that have become infested with bind weed. This is an absolute menace and is very difficult to eradicate.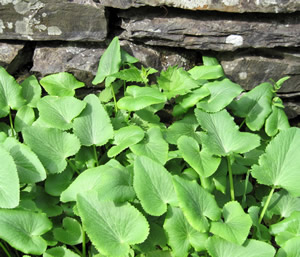 We couldn't immediately identify these young plants and they were very nearly removed with the other weeds but then we remembered what they were.
Two or three years ago we scattered some eryngium seeds. The common name is 'Sea Holly' which is so much nicer.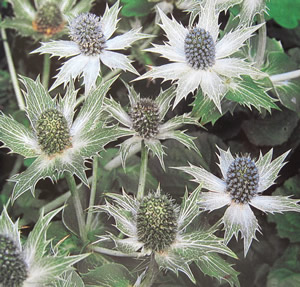 I think the seeds were eryngium giganteum, otherwise known as 'Miss Wilmott's Ghost'. Isn't that a splendid name? Miss Ellen Wilmott was a nineteenth century gardener and would secretly scatter seeds of this plant in the gardens of her friends. Two or three years later large prickly plants would appear that shone a ghostly silver in the sunlight. When Ellen Wilmott was found to be responsible for their arrival they became known as Miss Wilmott's Ghosts........I'll let you know if these apparitions appear from the rather boring leafy clump later in the season.
These sunny garden days aren't set to last much longer so I'd better get back to work....now where did I leave my broom?
Until next time
Eli