As I'm such a fan of blue I'm participating in 'Blue Monday' this week watched over by Smiling Sally.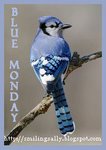 'Blue Magic' is the name of these sweetly scented grape hyacinths that are currently blooming on my window sill. I suppose I should call them by their official name which is 'muscari' but I think grape hyacinth sounds so much prettier and old fashioned and my granny always used it.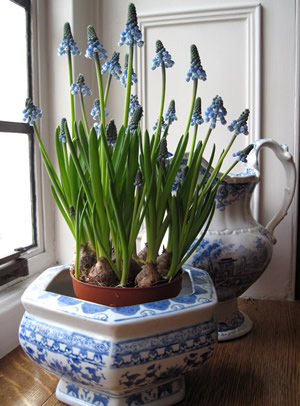 Such a delicate little flower, but just look at those sturdy stems!
Each flower head is made from dozens of tiny bells. This particular variety has frilly white edges. After years of cross breeding grape hyacinths can now be found in numerous colours and sizes. You can see a selection below (taken from an old catalogue).
Here in England they bloom from mid March through to mid May and are perfect for naturalising in woodland or grassy areas. Best of all I like to see them along the front edges of flower borders (just like my granny had them) or as companions for pot grown daffodils and tulips.
This autumn I should like to plant a variety of muscari bulbs around the garden and so will have a great time pouring over catalogues making my choices. Here in Britain the perfect place to discover new varieties of any plant is at one of the RHS Flower Shows held around the country. I should one day like to visit the RHS Chelsea Flower Show in London but it is many hundreds of miles from my home in the Lake District and so I shall content myself with the excellent TV coverage of the event. Closer to home (but still a 200 mile round trip) I have the RHS Tatton Park Show in Cheshire (21st - 25th July). The thrill and excitement of seeing so many different plants, and the opportunity to buy a selection for the garden, is a very exciting prospect. There are several RHS Shows every year held in a variety of venues around the country. For more information visit the RHS website.
If presented with a huge selection of blooms I wonder if I would favour blues above all other colours? Yes I probably would!
Blue is a colour I love and if you are familiar with my blog you will know that I've been an avid collector of blue and white china for many years. It could have quickly found its way into every room but I try to limit it's spread.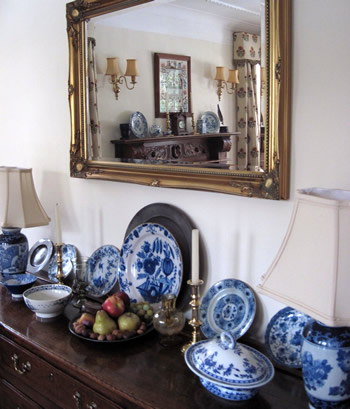 This is the dining room dresser and you can see from the reflection in the mirror that blue and white has spread to the mantel.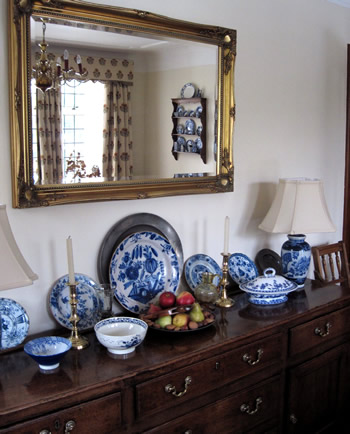 Viewed from another angle you can see even more blue and white on the wall.  If you are a lover of blue and white china then you must pop over to Rhondi's blog Rose Colored Glasses. Her home is overflowing with the lovely stuff and I confess I could quite happily steal it all from her! Wonder if she'd notice!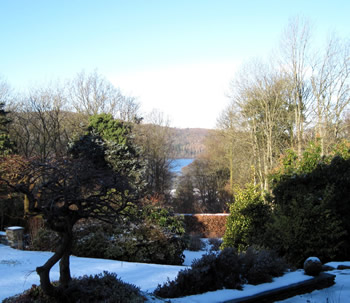 Today it seems is a blue day. This is the view from my window. The lake is reflecting the clear azure sky and even the dusting of snow we had yesterday seems to have adopted a blue hue.... Blue indoors and out...just the way I like it!
Until next time,
Eli